How it Works
Bus better with Bee
The Bee Card is your new electronic smart card for using the bus. It's easy to use, gets you boarding faster, and for most trips is cheaper than using cash.
You will be able to use the same Bee Card in all 9 of our participating regions! Your balance will apply for every region, with the same Tag On - Tag Off procedure everywhere you travel.
---
How do I get a Bee Card?
There are two ways to get a new Bee Card:
Online
Order online and have it posted to you free of charge.
When you receive your Bee Card go online to activate it.
Start using your Bee Card to ride the bus!
In person
Pick up your Bee Card from your local customer service point, nominated retailers in your region, and in some regions from your bus driver.
Start using your Bee Card to ride the bus!
We recommend you register your card online to access the benefits of registration.
Bee cards cost $5 when ordered online or collected in person.
Find out more by selecting your regional information page from the list on the right.
When you order your card online you will need to top your card up with a minimum of $5.
For SuperGold Card users, card costs and top up requirements are different, go here for more information on SuperGold.
Why register your Bee Card?
Registering your card online helps keep your card and balance safe, and makes it easier to manage.
Top up online
Set up Auto Top Up so you never have to worry about topping up again
Protect your balance if your card is lost or stolen
Manage more than one Bee Card with a linked account
If you're eligible, you can load your concession.
If you already have a Bee Card you can register it here.
Using your Bee Card on the bus
The Bee Card makes boarding faster, and easier for you. Just tag on by holding your card to the the Bee Card reader as you board the bus, and tag off when you leave.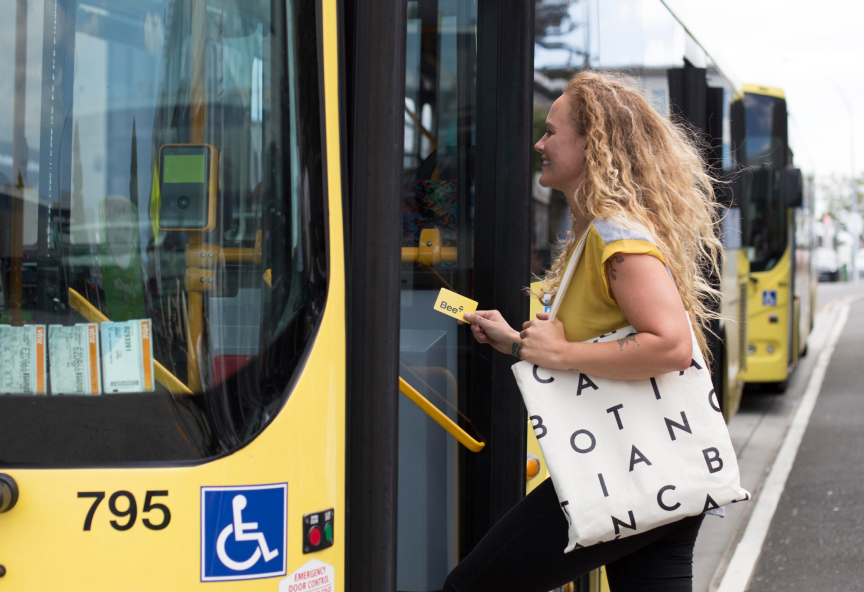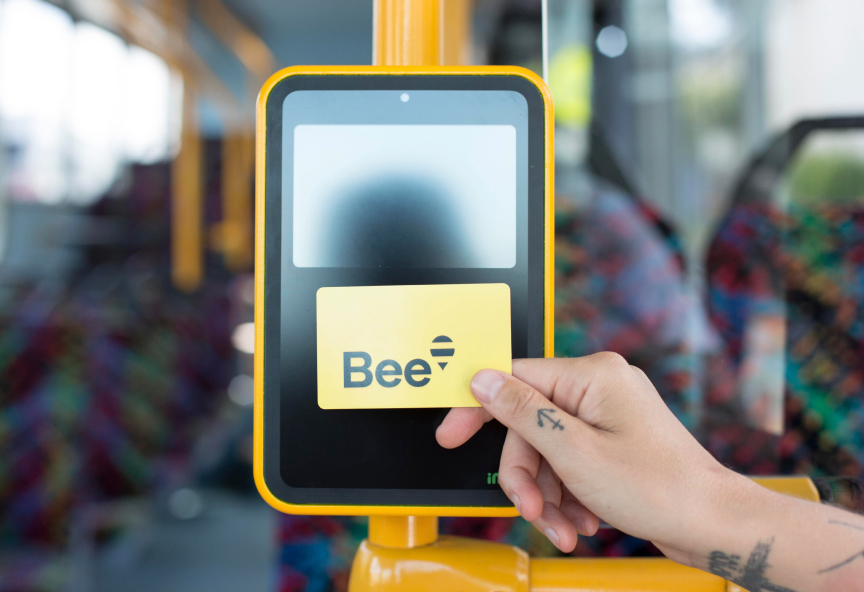 Don't forget to tag off as there may be a default charge.
The system will automatically calculate your fare as you leave the bus and debit the amount from your Bee Card.
If you have forgotten to tag off, refer to the list on the right for your regional contact information.
---
Topping up your Bee Card
You can top up your card online, at your local customer service point, at nominated retailers in your region, and in some regions- on the bus,
Click on your region on the right to find out where you can top up in person.
Top up easily online.
You can also make sure you'll never run out of credit with Bee Card's Auto Top Up feature which automatically tops up your Bee Card when your balance reaches your chosen threshold.
The minimum online top up is $5. The maximum total you can have on your Bee Card is $299.